Fears of 'imminent' rock fall at Oddicombe beach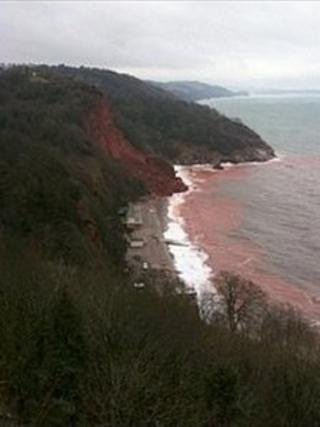 Fears have been raised about a possible rock fall on a beach in Devon.
The warning from Torbay Council follows a geological survey it commissioned at several locations on the south Devon coastline.
It said the engineer had serious concerns that a major fall was "imminent" at Oddicombe beach in Torquay.
Part of the beach is already closed, but the council has urged people to stay away from the area.
The entire beach was closed for several days in 2010 after a landslide which brought down about 5,000 tonnes of sandstone.
Blue Flag
The council said it commissioned the survey after recent rock falls in other coastal areas of the county.
A statement said: "The location giving him most concern is the high cliffs behind the closed section of Oddicombe Beach, Torquay and it is his opinion that a major rock fall is imminent in this area.
"As a result we would once again strongly urge members of the public to adhere to the 'beach closed' warning signs that are in place for their safety."
Oddicombe is a "Blue Flag" beach and it has also received a Quality Coast award.