Braunton 'cut off' by flood water as rain hits Devon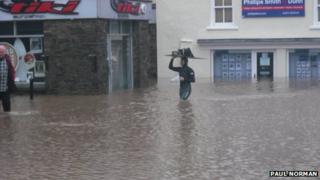 Dozens of homes and businesses in Devon have been flooded as heavy rain hits the south-west of England.
In North Devon, parts of Braunton have effectively been cut off and two severe flood warnings are in place.
In the village of Colebrook, near Plymouth, seven homes were evacuated. In Plympton 15 people were forced to move after the Long Brook burst its banks.
First Great Western has advised passengers not to travel.
'Defences totally overwhelmed'
In Braunton, homes and shops were flooded when the River Caen burst its banks overnight.
Chairman of Braunton Parish Council Liz Spear said newly-built flood defences were overwhelmed by the volume of water that hit the town.
"It's really bad, we had flooding seven years ago, but it was nothing like this," she said.
"It's disappointing really because the Environment Agency has just spent over £1m on new flood defence schemes, two flood defence schemes, this year, but they've been totally overwhelmed."
Mrs Spear, who has lived in Braunton for 45 years, added that there was a river running through the centre of the town.
Town 'cut off'
Devon and Cornwall Police said "numerous properties" have been affected.
A spokesman said: "The town is effectively cut off from both Barnstaple and Ilfracombe and numerous properties are affected."
A number of people also had to be moved from homes in Averton Gifford.
Some properties had up to 3ft (0.9m) of flood water in them, Devon and Somerset Fire and Rescue Service said.
Since 02:30 GMT, crews received more than 130 flood-related calls across the county including from Ivybridge, Barnstaple, Bideford and Kingsbridge.
At Exeter, Network Rail is using a water-filled tube to act as a dam to protect the main railway line between London Paddington and Penzance from flooding.
In Plymouth up to a dozen roads were closed as a result of flooding.
Devon and Cornwall Police said most of them have since reopened.
The Environment Agency has a number of flood warnings in place across Devon.