Jordan Cobb: Torpoint ferry jump search called off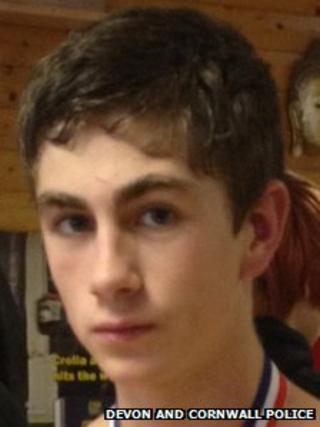 The search for a teenage boy who jumped from a ferry into a river on New Year's Eve has been called off.
Jordan Cobb, 16, from Plymouth, Devon, jumped from the Torpoint ferry into the River Tamar at 21:15 GMT on Monday.
Devon and Cornwall Police said Jordan was believed to be with a group of friends when he jumped.
The Maritime and Coastguard Agency (MCA) said despite an extensive air, land and sea search Jordan had not been found.
Nigel Bunker, an MCA station officer, said there had been no sightings of Jordan since he was captured on the ferry's CCTV going into the water.
Family 'distraught'
The ferry was approaching Torpoint at the time of the incident, but the search was extended to include the Plymouth side of the river.
Mr Bunker said there had been a "massive effort" to find Jordan, but when the best chance at low tide failed, all the teams involved in the search were stood down.
Sgt Mike Hope, from Devon and Cornwall Police, said Jordan's family had been kept fully informed throughout the search.
"They are obviously very distraught at the moment and are really just waiting for news - it's a very distressing time for them," he told BBC News.
Coastguard rescue teams, a helicopter, police and Ministry of Defence launches, Dartmoor Rescue Group and Plymouth's all-weather and inshore lifeboats were involved in the search.
The Torpoint Ferry, which is pulled across the River Tamar on chains, is one of the main ways to travel between Devon and Cornwall.