Torbay police give 'burglar code' warning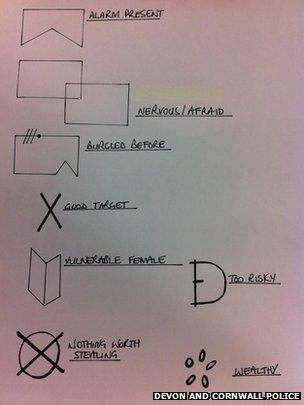 Police in south Devon are telling householders to report any chalk markings on their properties which could be made by potential burglars attempting to target homes.
CID officers in Torbay said they had tweeted examples of symbols after some had been reported in Exeter.
The symbols could inform burglars about a property, its occupants and their possessions, officers said.
Anyone who found markings should contact Devon and Cornwall Police.
The meanings of the symbols, which have also been seen elsewhere in Britain, range from deeming a home as being too risky to raid, to having stuff worth stealing, to having been burgled before.
Messages about occupants can include symbols to mean they are believed to wealthy, a good target, or are thought to be nervous or even vulnerable.
Devon and Cornwall Police said: "If found, people should be vigilant and please tell us."
Related Internet Links
The BBC is not responsible for the content of external sites.