Jimmy Savile scandal: Abuse case 'at Exeter Hospital'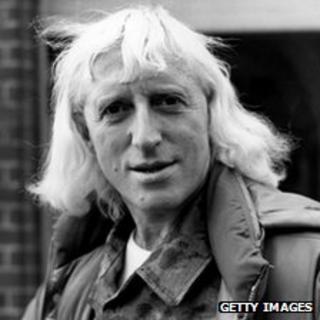 Jimmy Savile committed a sexual offence on NHS premises in Devon, a report detailing 50 years of allegations against the disk jockey says.
The Giving Victims a Voice report said Savile was reported to have offended at Exeter Hospital in 1970.
The Royal Devon and Exeter NHS Foundation Trust (RDE) said it had been made aware of the allegation.
It added its chief executive, Angela Pedder, would lead an investigation into the Exeter link.
Former BBC presenter and Radio 1 DJ Savile died aged 84 in October 2011, a year before the allegations emerged in an ITV documentary.
Revelations that Savile had allegedly sexually abused children prompted hundreds of victims to come forward.
Knighted
The Giving Victims a Voice report set out the findings of Operation Yewtree, the police operation launched three months ago to investigate the Savile abuse claims.
Exeter Hospital was included in a list of 13 hospitals and hospices "where Jimmy Savile is reported to have offended".
The RDE said: "NHS organisations in Devon have recently been made aware of this allegation dating back to 1970 and will continue to liaise with the Metropolitan Police in the event that any new evidence emerges.
"Angela Pedder... will be leading an investigation on behalf of the NHS in Devon."
It said it did not know which buildings any offence may have been committed in.
Savile was a BBC Radio 1 DJ as well as a presenter of Top Of The Pops and Jim'll Fix It on the BBC, and was knighted in 1990.
Operation Yewtree has three strands - claims against Savile, claims against Savile and others, and claims against others.
The report marks the end of the investigation into claims against Savile.
Devon and Cornwall Police said they were investigating five leads as part of Yewtree.