Paul Conroy, photographer injured in Syria, vows to return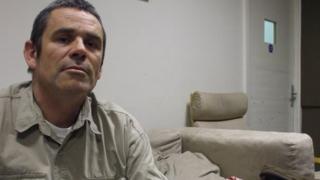 War photographer Paul Conroy, who was injured in a bomb attack in Syria which killed two colleagues, has vowed to return to the country.
Mr Conroy, 48, from Totnes in Devon, suffered serious injuries in an attack on Homs in February 2012.
The same attack killed war correspondent Marie Colvin and French photojournalist Remi Ochlik.
Mr Conroy was smuggled to Lebanon by Syrian rebels before being brought back for treatment in hospital in London.
Now back on home turf, the father of three said he wanted to go back to tell the Syrian people's stories.
"These people do not have a voice," he said.
"I am a storyteller and I feel the need to bear witness.
"The old saying 'the fog of war' is very true - there are so many unverified stories from social media."
Mr Conroy knows he will be in danger, and reckons it will be another three to six months before he is physically able to run with a backpack of equipment "and not be a burden".
He said: "I do not want to put people in danger."
His left leg was left with a hole through it as a result of the attack on a makeshift media centre in Homs on 22 February 2012.
"I could put my hand through it", he said, showing the scars that remain.
He believes the media centre was targeted because of broadcasts he made with Ms Colvin the day before to CNN, the BBC and Channel 4.
And he wants to find out who ordered the attack, with the help of Syrian defectors.
'It's a vocation'
"We rattled too many cages in Damascus," he said.
"It was not local, it was very much from the higher echelons."
A veteran of wars in Libya, Kosovo and Iraq, he is writing a book about his experiences.
He said he knows the dangers of returning - the Syrian military are adept, he said, at picking up transmissions from mobile phones to satellite dishes.
But while "no story is worth getting killed for" he said he was ready for the challenge ahead.
"It's been part of my recovery that this is not going to change my job," he said.
"I don't do it for money, it's a vocation.
"And lightning doesn't strike twice, fingers crossed."