Ashburton and Bovey Cottage hospitals plan 'wrong'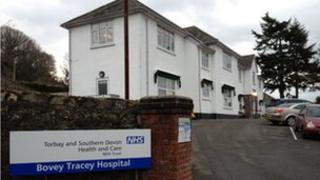 Plans by health bosses to close in-patient beds at two cottage hospitals in Devon have angered some locals.
People living near the cottage hospitals at Ashburton and Bovey Tracey say they offer a vital local service.
Health managers said the wards were not up to scratch and they want to move the beds to the new Newton Abbot Hospital, which has more modern facilities.
A series of public meetings are being held by the Torbay and Southern Devon Health and Care NHS Trust.
'Absolutely disgusting'
Valerie Tiernan from Ashburton, who is one of those against the move, said: "I don't agree with it. It's very important to the local people to have those beds.
"Relatives can come and visit them rather than have to go to Newton Abbot."
The trust wants to close the 20 inpatient beds at Ashburton and Bovey Tracey hospitals.
It said the hospitals were old buildings which were too cramped and had defective heating and drainage systems.
The trust argued Newton Abbot Hospital had "the latest facilities to help make an inpatient stay as comfortable, safe, pain-free and short as possible."
Another resident, Lynne Elliott, said her father died in Ashburton Hospital and the family really appreciated that he was nursed close to home.
Mrs Elliott said: "It's absolutely disgusting. It's very wrong. I stand behind everybody that is fighting for it. If we can keep it, it's very important for the community."
In a statement issued after the first of six public meetings, Dawn Butler, Assistant Director of Operations at Torbay and Southern Devon Health and Care NHS Trust, said: "It is very clear there is a strong strength of feeling for the community hospitals and the trust is absolutely committed to continue engaging with local people in a variety of ways to ensure their views are captured as part of this process."
The series of public meetings will be held in January and February.