Keith Gibson jailed for distributing indecent images of children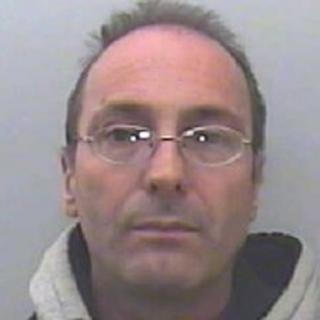 A computer engineer has been jailed for two years for distributing indecent images of children in one of the "most serious cases" a judge has heard.
Keith Gibson, 50, of Milford Cottages, Kennford had 2,300 still and moving images on his computer which he then distributed to a paedophile ring.
Exeter Crown Court heard some content included the rape of a three-year-old.
Gibson from Devon admitted 10 offences of making, four of distributing and two of possessing indecent images.
The court heard he formed part of an internet paedophile ring which exchanged child sex fantasies and images in chat rooms with some of those involved posing as children.
'Pre-meditated' behaviour
The victims included babies under six-months-old and two of the movies he distributed showed girls aged about three and 10 being raped.
He was caught through an investigation by the Child Exploitation and Online Protection squad in London, the court heard.
Judge Francis Gilbert QC said: "You did not care if you were talking to adults or children and you fantasised you were talking to children.
"The probation report says your behaviour was pre-meditated, well planned and persistent and that you went to significant lengths to avoid detection, and you had no regard for the children who were being abused.
"In my judgment this is one of the most serious cases of this type I have ever come across."
Gibson ran a computer repair business where police seized equipment and found 1,682 still images and 638 movies of which just under 1,000 were in the most serious category.
Formerly of Milford Cottages, Kennford, Gibson recently moved to River Drive, Cullompton, following flooding at his property over Christmas.