Job fears by Bideford mayor after TE Connectivity closes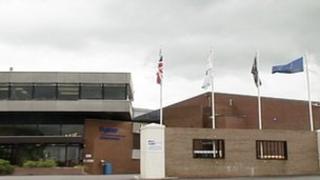 The mayor of a town which has lost 250 jobs from the closure of a factory has said he is unsure whether staff will find other jobs.
Simon Inch, Mayor of Bideford, said the news about TE Connectivity, formally known as Tyco Electronics was a "severe blow".
He said the jobs were specialist and he was unsure whether there was alternative employment for them.
TE said its decision was made "to maximise efficiencies".
'Huge blow'
A 90-day consultation with the workforce has begun and the Bideford operation is expected to close by the end of 2013.
Mr Inch said: "This is a severe blow to the town and I was very shocked to hear the news.
"There won't be very good morale around at all and of course these jobs are very specialist jobs and I'm not sure where these people are going to find further employment.
"The only thing the town council can do is to support the families as best we can."
The company, which has been based in Bideford for nearly 50 years, has about 90,000 employees in more than 50 countries.
In a statement, the company said: "We recognise the impact this decision will have on our employees, and if the proposed action takes place, we will provide comprehensive outplacement support and a redundancy package.
Tim Jones, chairman of Devon and Cornwall Business Council, described the announcement as a "huge blow" to the local economy.
He said the loss of the company would be "extremely difficult to recover from".