Devon ice warning after heavy snowfall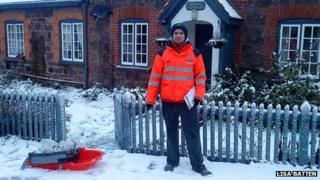 Drivers in Devon are being warned of ice this weekend following a day of travel disruption caused by snow.
A Met Office yellow ice warning has been issued for the wider South West, excluding Cornwall.
Devon County Council said its fleet of gritters was prepared to carry out overnight runs.
On Friday there were hazardous driving conditions on the M5 between J30 at Exeter and J26 at Wellington while dozens of schools were closed.
In Dunkeswell, in east Devon, 16cm (6.2in) of snow was recorded.
Chris Cranston, from Devon County Council, said there were still problems with snow on the roads on the moors.
"On Exmoor there's a lot of snow drifting around and some roads are still impassable," he said.
He added that gritters would be out this evening and early tomorrow morning.
Mr Cranston said: "Anywhere is possible to see some ice tomorrow morning, so we're asking people to be particularly vigilant and aware.
"People can not assume that if a road has been treated that it's free from ice or frost."
'Absolutely horrendous'
More than 260 volunteer snow wardens have been on standby to help their communities as part of Devon County Council's "snow plan".
Earlier several roads in Devon saw traffic at a standstill including the A38 trunk road at Haldon Hill and Telegraph Hill on the A380.
Dave Kirk, an HGV driver, who was stuck on the A361 for several hours, said: "It's absolutely horrendous. I have been here for three hours and nothing is moving.
"It's snow, snow and more snow. There's not a lot we can do. We have just got to sit here and let them grit the road and get the snow ploughs out."
The enhanced content on this page requires Javascript and Flash Player 9
Map Key
Land
Cloud
Lakes, Rivers & Sea
Fog
Light
Heavy
Frost
Light
Heavy
Pressure Fronts
Cold
Warm
Occluded
Rain
Light
Heavy
Extreme
Snow
Light
Heavy
Temperature tab only
Temperature (°C)
More details from BBC Weather