Exeter Cathedral organ to undergo £1m restoration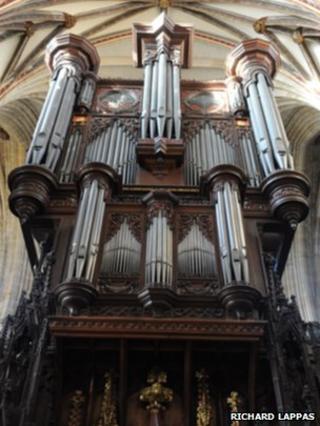 Exeter Cathedral's 17th Century organ is to under go an "overdue" £1m restoration.
The project will begin at the end of January with the dismantling of the instrument, which has 4,000 pipes, as well as components dating back to its initial construction in 1665.
It was due to be rebuilt and fully working again in 2014, music director Andrew Millington said.
Digital electric church organs would be used in the meantime, he added.
'Extremely cramped'
Mr Millington said a restoration was overdue as all such instruments needed a complete clean and overhaul every 25 years.
Parts such as delicate leatherwork would be replaced, wind leaks rectified, and the pipes sent up to organ builders in Durham to be cleaned and repaired, he said.
However, its historic case would remain in the cathedral.
The cathedral said the inside layout of the organ was to be completely re-designed as it was "extremely cramped, and some sections are virtually inaccessible for maintenance".
Canon Carl Turner, who is managing the project, said the intention was to ensure the organ was in full working order because "it is far from being a museum piece".
He said: "It is a working instrument, used day in and day out in the way it was intended to by its creator, John Loosemore, in 1665 and we need to ensure it stays that way."