Plymouth man rescued in Algeria hostage crisis is home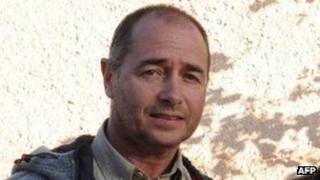 A man from Plymouth who survived the Algeria hostage crisis is back in his home city.
Allen McCloud, 53, was one of 22 Britons who survived and are back in the UK. Devon and Cornwall Police confirmed he had arrived home.
Mr McCloud's brother, Malcolm, told the BBC the family was "very relieved that Allen is now safe".
Three Britons were confirmed dead and three more were believed to have died, Prime Minister David Cameron said.
One victim has been named as 46-year-old Paul Thomas Morgan.
In a statement, his mother, Marianne, 65, and his 36-year-old partner, Emma Steele, said they were very proud of him and what he achieved in his life, adding that he would be truly missed.
"He very much loved his partner Emma, his mum, brothers and sister, of who he was very proud," the statement said.
"He loved life and lived it to the full. He was a professional man proud to do the job he did and died doing the job he loved."
It is thought that at least 48 hostages have died after reports that 25 bodies found at the complex on Sunday were all those of captives.
The crisis started after hostage-takers attacked a gas plant at Tigantourine, near In Amenas, in the Sahara desert on Wednesday 16 January, Algerian officials said.
A military operation to re-take the plant ended with the deaths of 32 Islamist kidnappers and at least 23 hostages over the course of the crisis, Algerian ministers said.
'Lack of information'
By Saturday afternoon, 685 Algerian workers at the plant and 107 foreign workers had been freed, Algerian state media said.
Seven hostages were killed by their captors in the final assault as troops tried to free them on Saturday, according to state news agency APS.
Malcolm McCloud said: "We are all very relieved that Allen is now safe. It's been a long, stressful four days for the family."
But he went on to criticise the British authorities, fuel company BP and recruitment company Orion for failing to keep their father, who lives in Thailand, informed.
He said: "None of these fed any information, despite being told he would be the first to know.
"The lack of information from all the relevant sources was very poor. We were kept up to date from friends who worked in the oil and gas industry and the news."
'Charitable and honest'
He added: "Devon and Cornwall Police were very supportive and helpful, so a big thank you to them.
"Our thoughts are now with the other families who were not so lucky as us."
Mike Bellamy, landlord of the Notte Inn in Plymouth, which is part-owned by Mr McCloud, said the ex-hostage was "one of the most charitable, honest and nicest people I have had the pleasure to meet".
He said: "He's professional and he would not have taken the loss of friends and colleagues lightly.
"Undoubtedly he will be thinking of friends and family at this time, which is a testament to his character."
The Anglican Bishop of Plymouth, the Right Reverend John Ford, said Mr McCloud's release was a "fantastic piece of news".
He said: "It's wonderful the situation has come to an end, and he's been released and is seemingly unharmed.
"But it has come at the cost of so much harrowing experience of those who were also held and those who also died."
The British survivors flew back to the UK on government and BP chartered flights overnight and are being reunited with their families, Foreign Secretary William Hague said.