Royal Eye Infirmary treatment moves to Derriford Hospital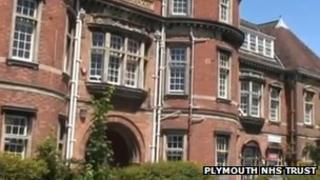 Eye treatments provided by a Plymouth infirmary which is more than 100 years old will finish later.
Ophthalmology treatment offered at the Royal Eye Infirmary at Mutley Plain in Plymouth is moving to the city's Derriford Hospital.
The Plymouth Hospitals NHS Trust said the 19th Century building was no longer suitable for the "ever-expanding and developing service".
The first operations at Derriford will take place from 30 January.
Urgent eye care outside normal working hours transferred to Derriford in October 2010.
Martin Giddy, a manager at the Royal Eye Infirmary, said: "The building at Mutley is very nice but it's not very practical for giving good high quality patient care.
"So although we've got really good staff down there we need a better environment to give better quality care."
Work on the infirmary started in 1897 and it opened in 1901 at a cost of about £13,600.
In recent years the service has treated about 50,000 patients annually, prompting the move to larger facilities.