'Perilous' village roads left untreated by council's gritters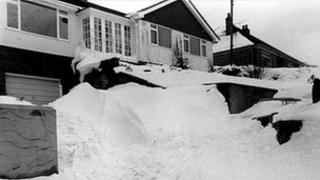 Residents of a remote Exmoor village, cut off by snow, claim they are "always the first to suffer" when it comes to the council's gritting service.
People in Parracombe said they have had "very little help" from the council in making their village accessible.
A spokesman for Devon County Council said Exmoor had been badly hit by the snow and faced the most "challenging conditions in the county".
He said "extra resources" had been deployed as a result.
'Pay handsomely'
"We have put extra resources into clearing access routes to all hamlets and main communities," he added.
Nikki Baxter, manager of the Fox and Goose pub, said: "We're always going to be the ones that are first to suffer.
"We are literally at the very bottom of the valley and with the snow and the ice people don't want to come down because it's too perilous.
"The gritters come through but they don't seem to deposit much."
Kevin Marshall, who runs Parracombe Stores and Post Office, said: "We can't get out, I have to go up to the main road to get the papers and the milk."
Ms Baxter added: "We still have a right to emergency vehicles coming through.
"We all pay handsomely in our taxes, why should we be any different to a city or a town?"