Travellers leave illegal camp at Cadover Bridge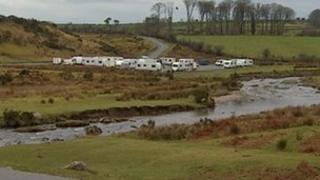 Travellers who set up an illegal camp on a well-known beauty spot on Dartmoor, left the site "peacefully", the National Trust has said.
The 50 travellers moved on to Cadover Bridge on 17 January after they had been evicted from a car park in the centre of Teignmouth.
The National Trust said two large trailers were needed to remove the rubbish the travellers left behind.
It said the site would be cleared and ready for the public by Thursday.
Gus Fergusson, the National Trust's head ranger, said the travellers "left last night and it was quite peaceful, but there was a mess left behind".
"We've had four of five people clearing up there today and they've filled two large trailers."
Cadover Bridge is within Dartmoor National Park, but the land is owned by the National Trust.
The trust had applied for a court order to move the travellers, but they claimed they intended to return to Ireland.
It is not known where the travellers have moved to.