Dartmoor military training secured for 40 years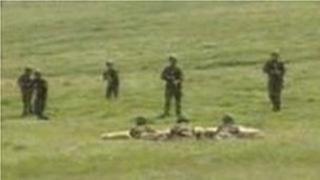 The military has been given permission to continue using part of Dartmoor as a training area for the next 40 years.
The Ministry of Defence's (MoD) contract to use Cramber Tor will now be extended until 2052.
Dartmoor National Park Authority (DNPA) said it wanted to support the military and there had been no reports saying it adversely affected the area.
Devon Ramblers Association, which objected to the plans, said it was "cut up" but had to "bite the bullet".
The MoD submitted a planning application for the continued change of use for the Tor, but a finite term of 40 years was granted.
'Majesty of Dartmoor'
Bill Hitchins, who chairs DNPA, said: "I sincerely hope that there will come a time when the military no longer needs to train on Cramber Tor as it hopefully means we live in a more peaceful world.
"Until that time we will continue to work with the military to minimise their impact and ensure the public's enjoyment of this special place is not spoilt."
Cramber is know for its harsh, rugged nature and unpredictable weather and has been used since 1981 by the military although live firing does not take place .
Devon Ramblers Association had asked for a maximum of 10 years to be granted.
Chairman, Robert Woolcott said: "To block it for that length of time is far too long and ten would be more acceptable.
"We've got to bite the bullet, we want to see the troops trained but we want to see the beauty and majesty of Dartmoor maintained."
The training area is used throughout the year except on Sundays, public holidays and during August.