Man, 91, wants missing World War II medals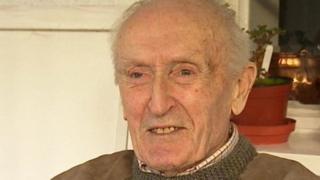 A 91-year-old war veteran hopes to be awarded the World War II campaign medals he says he was promised.
Richard Power, from Exeter, served with the Foreign Office's Political Intelligence Department and was with the 8th Army in the invasion of Italy.
Mr Power said he and 30 colleagues were told they should receive campaign medals.
The British Foreign and Commonwealth Office (FOC) said it was working to try and resolve Mr Power's case.
'Documents filed away'
During his time in Italy Mr Power's job was to help broadcast propaganda bulletins to demoralise Italian and German troops.
He said: "After what I've been through, why haven't I had recognition?"
Mr Power said after the war his unit's papers were sent to the War Office and effectively classified.
His son, Eddie Power, said: "There were 30 people who were granted these medals in 1948, the documents disappeared, went to the War Office, and were filed away and nobody did anything more."
The MP for East Devon Hugo Swire, who is looking into the case, said: "I'm batting for Mr Power to try and find out if his evidence still exists after all these years.
"And if it does, if we can prove that he's entitled to the recognition."
A spokesman, from the Foreign and Commonwealth Office, said: "We wish to recognise the brave and valuable service given by individuals during WWII.
"However, we do not hold relevant records or information on service performed during that time which would enable us to determine entitlements to WWII medals."
He added that they did not comment on individual cases but it was working with the Ministry of Defence to try and resolve Mr Power's case.