Steam railmotor back on South Devon line after 100 years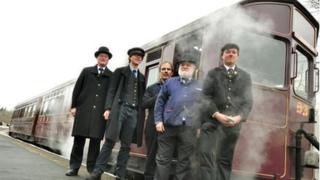 A steam powered train has returned to a Devon railway after more than 100 years.
The Great Western Railway Steam Railmotor was last seen on the Totnes to Ashburton line in 1905, the South Devon Railway (SDR) said.
Dick Wood, from SDR, added it was the "grandfather of all modern trains".
It was introduced in 1903 and ran locally around Plymouth, Exeter, Teignmouth and between Totnes and Ashburton.
Mr Wood said 99 steam railmotors were built between 1903 and 1908.
'Victims of success'
He said it was "totally unique".
"The reason why they disappeared was because they were victims of their own success," he added.
"They couldn't carry the number of people who wanted to travel on them, so Great Western expanded the principle and put them with a steam locomotive with up to four coaches, with the steam engine in the middle.
"Therefore you could carry nearly 500 people, quickly, efficiently and easily."
The steam railmotor, which has been hired from the Great Western Society, was one of the last to be built in 1908.
It has been hired for the Western Branch Line Gala until 24 February.