Colebrook flood victim's £10k insurance excess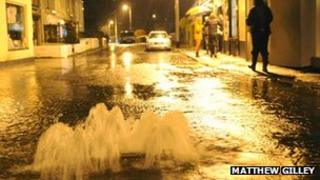 A woman whose house flooded three times last year has been told she will have to pay an insurance excess of £10,000 if she is flooded again.
Janet Luke, 61, of Colebrook in Plymouth, was originally turned down for insurance.
Canopius, Mrs Luke's insurers, said it had "paid four flood claims since 2009 totalling almost £40,000".
South West Water (SWW) said it was working on a new flood prevention scheme and could not act as an insurer.
Local MP, Conservative Gary Streeter, said he had spoken to Canopius who said it would consider reducing the excess once a new flood defence system was in place.
'A nightmare'
Mrs Luke is thought to be the first resident in Colebrook to have her policy come up for renewal.
She said: "Before I saw the excess I was delighted they were covering me. When I saw the amount, they may as well have said £10m. It's such a worry.
"I have been flooded three times: July, November and December. I've not been living there since.
"It's an ongoing thing of everything being dried out. It's been quite a nightmare."
The insurance firm said in a statement: "After careful consideration, Canopius continues to provide home insurance for Mrs Luke's property, with a £10,000 excess for each and every loss in respect of flood and a premium increase of less than 2.5%.
"These renewal terms follow the Association of British Insurers' Statement of Principles, together with advice regarding flood protection developments in the area from Mrs Luke's MP, Gary Streeter."
Colebrook's repeated flooding problems have been blamed on inadequate drains.
Residents had been told it could be 2014 before a solution was in place, but SWW said in January it hoped to have a scheme in place by October.
SWW said: "We would expect the scheme to lessen flooding risk and for this to be reflected in the insurance premiums of those affected.
"However, we cannot act as an insurer and subsidise customers at the expense of others."
Mr Streeter said: "I'm hopeful that once we get a decent flood defence scheme for Colebrook that excess can come down."