Lower Clyst habitat project angers Devon residents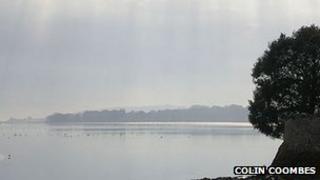 Plans to flood fields near Exeter to create a new habitat for wading birds have been criticised by people living in the area.
The Lower Clyst Project would see parts of the River Clyst breached by the Environment Agency and the RSPB.
The agencies said rising sea levels were eroding birds' natural habitats.
Local people are worried though that it could threaten the road across Topsham Flats, one of the main routes into Exeter from East Devon.
Residents fear they could be cut off in the event of flooding.
Nigel Cheffers-Heard, from the Bridge Inn in Topsham, said: "Once you flood these fields with salt water there is no going back.
"It comes down to people versus birds and I will always go for the people."
Another resident opposed to the scheme, Michael Dart, from Darts Farm, said: "The cost of this is that the people of Topsham and east Devon could see their futures drastically affected."
The Environment Agency and the RSPB have said the main road will be protected as part of the scheme.
A spokesman for the Environment Agency said: "We are looking at options to improve flood protection to the road. This could be done by raising the road on a causeway or building new embankments."
The agencies said they were obliged to re-create habitat which was being lost because of "rising sea levels in the Exe estuary".
Tony Whitehead, from the RSPB, said: "With sea level rise the intertidal habitat is reducing.
"They require protection. We need to do something.
"We want to do the best by the wildlife in a very special place."