Plymouth's The Ship for sale as Herald and WMN move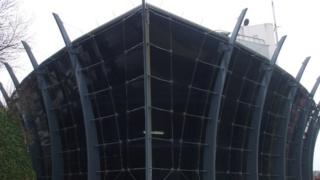 The headquarters of Plymouth newspapers the Herald and Western Morning News is up for sale.
Both newspapers are moving into the city centre after 20 years at the building, which is shaped like a ship.
The Ship, as it is called locally, dominates the skyline of the Plymouth International Medical and Technology Park in Derriford.
But the glass and steel-clad building "has become too large" said the Herald's website thisisplymouth.
Local World acquired the newspapers when it took over Northcliffe Media, the regional publishing arm of Daily Mail and General Trust and Iliffe News and Media last December.
The move is expected to take place in the summer, but no-one was available for comment on where the newspapers would be based in the city centre.
Blanche Sainsbury, managing director of publishers South West Media Group, part of Local World, told the Herald: "The move back into the city shows our commitment to be at the heart of the community.
"Herald reporters have always had their fingers on the pulse of current events, but this will make their job that much easier."
The newspapers were based in New George Street before moving into The Ship in 1993.