Paignton velodrome and cycling circuit planned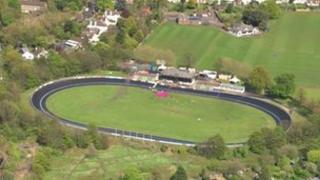 Devon could become a hub for cycling after plans for a new outdoor velodrome and closed road cycling circuit were approved.
The £1.6m complex, at Clennon Valley, near Paignton, would be the first of its kind in the South West.
The project is being endorsed by British Cycling, which said it was "committed" to providing some of the funding for it.
Torbay Council said it would "put Torbay on the map" of British cycling.
Conservative Councillor Robert Excell, Torbay's lead member for sport, said: "This is about bringing an iconic sport to the Bay and becoming the destination of choice for cycling in the South West."
Mr Excell said he was hopeful the project would be "up and running" within a year.
British Cycling, national governing body for cycling, said: "These facilities will be of huge benefit to the people of Devon and the South West and we look forward to helping to bring the project to fruition as soon as possible."
The velodrome would include a 437yds (400m) outdoor oval track and would cost an estimated £900,000 to build.
Funding needed
The closed road cycling circuit would be 1.5 km (0.9 miles) long and would cost about £660,000.
At the moment there are no twin cycling facilities outside London and Manchester and the nearest velodrome to Devon is in Bournemouth, Dorset.
Ken Robertson, Vice-President of Mid Devon Cycling Club and British Cycling's South West regional secretary, said: "This would make the world of difference.
"At the moment we have to travel to Birmingham, Newport or Bournemouth, would you want to travel to those places if you lived in Devon?"
Although Torbay Council has approved the project it will still need planning permission and funding to go ahead.