Axminster Carpets: 300 jobs to be cut by administrators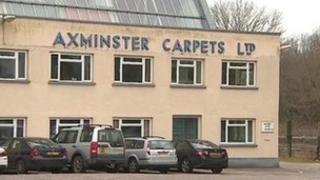 The majority of staff at Axminster Carpets are set to lose their jobs, administrators have said.
Administrators Duff and Phelps said about 300 employees out of 400 would be made redundant at company sites in Axminster and Buckfast.
They said carpet manufacturing operations in Axminster were to be downscaled and yarn production at Buckfast was to stop.
One hundred employees would be retained, they said.
Paul Kaxee, who worked at the firm along with his two stepsons, said: "There's three of us [in the same family] who have been made redundant today.
"For the last two weeks we've had no wages. There is no work around here at all."
Mr Kaxee said his wife, who had kept her job, was in tears because the eight people she had managed had been made redundant and she now had to run a department by herself.
'Not avoidable'
The company, one of Devon's biggest private employers, applied to go into administration last month.
Administrators said factory outlet stores would remain open and the company would attempt to fulfil existing customer orders where possible.
Company director Joshua Dutfield said the move "could not be avoided" after recent difficult trading.
The company blamed a sharp increase in raw material prices and the UK's continuing economic difficulties.
The BBC understands a buyer wants to buy the firm out of administration and keep some current board members, allowing some continuity.
However, Tim Jones, of the South West Local Enterprise Partnership, said it was still "a very disappointing and sad day for many, many people".
"I suppose the good news is that there is a phoenix-like company willing to buy it, so it looks as if the manufacturing plant can be saved," he said.
But he said the impact on Buckfast, where the company has about 100 staff, could be "devastating".
"It's not just about the direct job losses, but also indirect jobs," he said.
"A local supply chain has risen in Buckfast over many, many years. Up to 50 jobs could be lost at such suppliers."
Mayor of Axminster Andrew Moulding said the town losing the brand was "not something I'm wishing to explore".
He said: "We'll have to take that as it comes.
"Everybody knows families who have either worked at Axminster Carpets or have had relatives who have worked there.
"Therefore those people live and breathe Axminster Carpets, and the town lives and breathes Axminster Carpets, and we want it to continue."
The origins of the luxury carpet maker can be traced back to Thomas Whitty, who began making carpets and rugs in the town in 1755 using what became known as the Axminster method of weaving.
The first carpets were bought by the likes of King George III and Queen Charlotte, who visited the factory.
The Whitty family business perished during the 1830s - but the tradition was revived in the town in 1937, when Harry Dutfield, the son of a Glasgow carpet designer, founded the current company.