Exeter households face charge for rubbish bins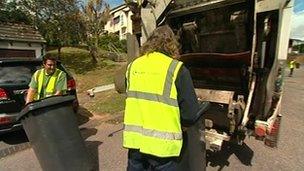 Households needing a new or replacement rubbish bin in Exeter could soon find themselves paying up to £45.
The Labour-controlled authority is looking at ways to cover the annual £100,000 cost of the service.
The fee would be £25 for a 140 litre rubbish bin, £35 for a 180 litre bin, and £45 for a 240 litre bin.
The community scrutiny committee's recommendation to introduce the charges will now go to the city's executive for approval.
Labour councillor Greg Sheldon said: "No charge is popular, but politics is about the least bad option sometimes.
"I would rather do this than cut back services or increase the council tax still further."
Exeter resident Jenny Campbell said: "Council tax is pretty high as it is. New bins should be part of the service."
There will be no charge for green recycling bins.
Exeter is increasing its share of the council tax charge by 4% from April, meaning the charge for a Band D property will go up by £5 to just under £130 a month.
Related Internet Links
The BBC is not responsible for the content of external sites.