Plymouth couple jailed for child cruelty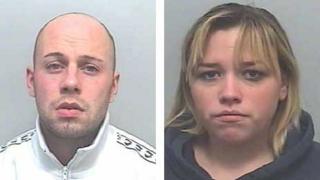 A couple have been jailed for three years each for attacking their baby son.
Christopher, 32, and Charlotte Sheldon, 24, assaulted their son Ethan at least three times in the first four months of his life, Plymouth Crown Court heard.
Both were found guilty of ill treating or assaulting Ethan between his birth in May 2010 and October 2010 at their home in Sefton Avenue, Plymouth.
They were also convicted of failing to seek medical attention for his wounds.
Six broken bones
Plymouth Crown Court heard the baby was repeatedly struck with a long thin implement like a piece of flex or cutlery and squeezed so hard that his ribs broke.
The baby suffered six broken bones - three ribs, a collarbone, ankle and big toe - and 20 bruises which doctors said could not have been caused accidentally.
Both parents, who have since separated, blamed each other for harming their son.
The court heard Ethan would have been in pain for several days from his injuries.