Report finds Devon councils lose £800,000 on parking fines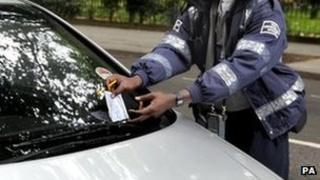 It has cost Devon's district councils more money to collect parking fines than they have made from them, according to an independent report.
The review by Parking Associates Ltd found the county's parking enforcement service ran at a loss of nearly £800,000 in 2011/12.
District councils took over parking enforcement duties from the police in 2008.
But the report recommends that the service is now centralised.
Devon County Councillors are due to debate the report's findings on Wednesday.
According to council documents, Devon's overall "on-street parking account" is running at a surplus, but the collection of Penalty Charge Notices (PCNs) is making a loss and has been for the last five years.
The service was designed to be cost-neutral.
At the moment all the district councils operate their own teams of traffic wardens and have their own separate computer and collection systems.
The report said centralising all those services would save money.
£22,000 report
Plymouth and Torbay Councils are not included in the report as they are unitary authorities.
Exeter City Council is the only district council which made a profit.
Opposition Liberal Democrat councillor Gordon Hook, who chairs the County Council's Place Scrutiny committee which called for a parking review, told BBC Radio Devon: "I want to make progress towards a healthier turnover, without exploiting car drivers, but helping the local economy because that is vital to all our futures."
He was critical that the independent report cost £22,000 to produce.
Devon County Council said: ""The key aim of the review is to reduce the operating deficit so more can be invested in traffic and transport projects.
"The recommendations from the report need to be fully considered by Cabinet and so as not to pre-empt the meeting, we cannot comment further."
If Devon County Councillors vote in favour of centralising parking enforcement the measures would take effect from April 2014.