Plymouth Argyle's Home Park £50m plans announced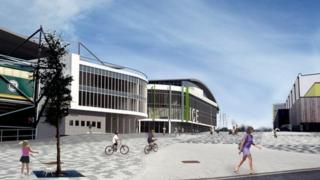 Plans for a £50m development at Plymouth Argyle Football Club have been announced.
The work at the ground includes a hotel, grandstand, cinema and ice rink.
Argyle owner James Brent, who is behind the development, said he wanted to create a "sporting, leisure and cultural destination" for the region at Higher Home Park.
Plans will be submitted to the city council in April and if approved work could start in the autumn.
Mr Brent hopes the ice arena will host major events including figure skating and ice hockey matches.
He added that over the next few weeks he would meet interested parties to gather feedback before submitting the planning application.
If work starts in the autumn, the grandstand and ice arena should be completed by the end of 2014, with the rest of the complex finished in 2015.