Ten lambs killed at Cockington Country Park in Torbay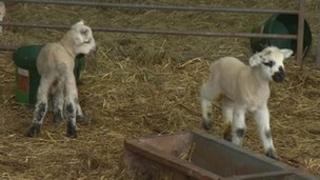 Ten lambs have been killed in three months in a country park in Torbay, managers said.
Dogs are believed to be responsible for the deaths at Cockington Country Park and visitors have been asked to keep a lookout for any animals not under control.
Other lambs have been moved away from a field where the attacks took place.
Managers said visitors should keep to paths and ensure dogs were under strict control and on a lead near livestock.
The area is popular with walkers and dogs, and park managers said they would continue to encourage them.
Justin Cox, of the Torbay Coast and Countryside Trust, which manages the park, said dogs were thought to be responsible, as opposed to foxes, because foxes usually dragged the carcasses away for food.
"It may have been a stray dog," he said. "We don't know.
"Whatever it is has not taken the bodies. They've been found mauled, with puncture wounds and not dragged away, making us think it is a dog.
"All we do know is that we are suffering these fatalities, which, from an animal welfare point of view, is completely unacceptable; and from a farming point of view, we want to stop."