'Jesus' tweets the Easter story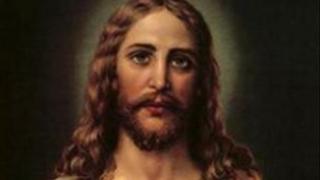 Christian social media users may be wondering "What would Jesus tweet?" when it comes to the Easter story.
Now the Diocese of Exeter in Devon is aiming to provide answers by tweeting the whole Passion story from Palm Sunday to sunrise on Easter Sunday.
The tweets have been written as if in Jesus' own words and will be sent out in "real time" throughout Holy Week.
The Palm Sunday tweet reads: "Waving branches at me like I'm a King! So tempted to go that way. If only they knew how this week was going to play out. . #makeway! #passion"
And one for Good Friday says: "I wish someone would help carry this cross. I've got so much baggage. The weight of the world on my shoulders. #fatherforgive #passion"
According to the Bible, Jesus rode into Jerusalem on a donkey on Palm Sunday drawing large crowds of fans and followers.
Days later, the Bible says, public opinion turned against him and he was put to death by the authorities before coming back to life again three days later.
The Resurrection is celebrated by Christians on Easter Sunday.
Canon Andrew Godsall, who came up with the tweeting idea, said: "Jesus used very short, memorable phrases, like 'I am the Light of the world'.
"The story of the Passion easily lends itself to very short phrases and it's interesting to reflect on what Jesus might have tweeted."
Contemporary culture
Canon Godsall, who works at the diocese, said the idea came about during a social media course.
He said: "We need to appeal to people more used to tweet culture than listening to sermons.
"We wanted to help people really connect with the events of the last week in Jesus' life.
"Trying to reduce the events of Holy Week to 140 characters each day has been a real challenge - but an exciting one."
Canon Godsall said he was "unapologetic" about the project, even though it might offend more traditional members of the church.
"There are people who say we shouldn't be engaging with contemporary culture, we should be separate from it.
"But Jesus always used contemporary culture, for example the parables, because it appealed to people's imaginations," he added.
The tweets began on Palm Sunday and are being posted at 11:00 each morning during Holy Week on @CofEDevon.
Asked about whether he was hoping the tweets would get many "followers" (in the Twitter sense, not the Biblical one), Canon Godsall said it would be "interesting" to see how people react to it.