Bishop of Plymouth blesses Hope Cove's new lifeboat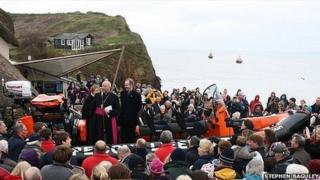 A new lifeboat at Hope Cove, in Devon, has been blessed by the Bishop of Plymouth.
The boat replaces a 20-year-old craft which has been used by the voluntary search and rescue crew since 2011.
The service, which was held by the Right Reverend John Ford, took place at the cove earlier.
The charitable trust, Hope Cove Life Boat, provides rescue cover for Bigbury Bay and complements RNLI cover in the area.
The boat, which was paid for by fundraisers and donations, is about 20ft (6m) long and can hold four crew and carry four casualties.
Bishop Ford said: "It's a wonderful tribute to this community that they've raised the money."
A spokesperson from the charity said there had been an inshore lifeboat service based at Hope Cove and operating in the bay since 1878.
Hope Cove's lifeboat was removed in 2008 by the owner, the Maritime and Coastguard Agency (MCA), amid safety concerns.
In 2010, the MCA and government ministers agreed there was a need for a rescue service based at the cove and that the MCA would support a privately-operated service.
The Hope Cove Lifeboat became a registered charity at the beginning of 2011 when it took over and refurbished the old boat from the MCA for a nominal sum.
The new boat will be launched for the first time on Monday.