Massive gorse blaze near Okehampton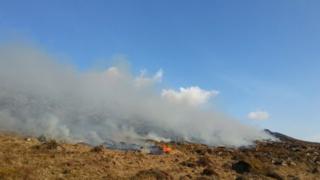 A "massive" gorse blaze has erupted near Okehampton in Devon, covering six square kilometres (1,482 acres) of moorland.
Smoke from the fire at Chat Tor, Lydford, can be seen from 40 miles (64km) away, Devon and Somerset Fire and Rescue said.
Twelve fire engines and ambulances have been sent to the area. Strong winds are fanning flames and spreading the fire.
"It's massive - half the hillside's on fire," an eyewitness told BBC News.
No-one is thought to have been injured, but the fire service said with the size of the fire it was "standard procedure" to have ambulances in attendance.
'Commoners' assisting
"There's a strong wind fanning the flames and with everything so dry, it doesn't take much," a fire spokesperson said.
"It's devastating when there could be birds nesting at the moment."
More than 100 firefighters are using beaters to tackle the flames and some Dartmoor "commoners" [people who live and graze livestock on the moor] are also using beaters.
It is not known at this stage how the fire started, but swailing - a controlled burning of overgrown heathland to clear the ground and encourage new growth - can with prior approval be carried out on the moor until the second week of April.