Financial boost for unused Fort Bovisand in Plymouth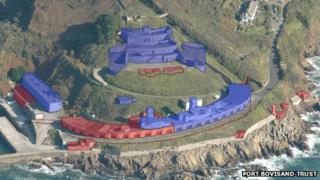 Plans to renovate a largely derelict Tudor fort in Devon have received a boost of more than £350,000 from the Heritage Lottery Fund (HLF).
Fort Bovisand in Plymouth was built on the mainland to defend the entrance of Plymouth Sound.
The Fort Bovisand Trust plans to create a visitor attraction which "would help bring the fort's history to life".
Philip Beagle, the Chief Executive of the trust, said: "We believe we can turn the fort into an exciting centre."
He added: "Everyone we have talked to in the educational, visitor attraction and heritage fields have been very enthusiastic about the project."
The £352,500 funding from the HLF will be used for "further detailed development work to be conducted," the trust said.
It hopes to secure a further £4.32m grant from the HLF, for renovation work to begin in 2015.
The new centre will tell the story of Fort Bovisand as a fort in Tudor times, through to its role in World War II.
There are also plans to transform part of the fort into private residences.
Councillor Tudor Evans, Plymouth City Council Leader, said: "There's no doubt that these are big and ambitious ideas that have enormous potential to open up yet another part of Plymouth's waterfront and heritage."