Honiton fire families remember 'beautiful babies'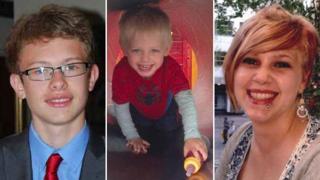 The family of a toddler and his teenage sister who were killed in a house fire in Devon said they have lost two of their "beautiful babies".
Harvey Bennellick, three, his sister Rosie, 17, and her boyfriend Andrew Gunn, 18, were all in the house in Honiton when it caught fire on 5 April.
They died later in hospital. Five others in the house survived.
Police said the fire began in a first-floor bedroom, but added it was not thought to be suspicious.
The family of Rosie and Harvey Bennellick said: "We have lost two of our beautiful babies.
"Rosie, our beautiful daughter, was the most amazing big sister anyone could ever ask for.
"She was always smiling, singing, dancing and most of all, loving to everyone she met.
"She loved life and gave us more joy than she will ever know.
"Harvey, our beautiful baby boy, was a lot like his big sister. He loved to sing and dance around with her.
"He didn't like to see anyone upset and would always hug you if you were sad.
"Harvey always smiled and made us smile. He was our baby."
"They touched many people's hearts. Our own hearts are broken. We loved them more than we will ever be able to say."
Andrew Gunn, from Bishopsteignton, worked at the village's Cockhaven Manor Hotel.
His family said: "He had his whole life in front of him. He will be missed by so many... who have a void in their lives from this loss."
The Bennellick family said Rosie and her boyfriend had been together for almost three years and he was a "big part" of the family.
They thanked local people and the emergency services and hospital staff for their "help and support".
The blaze broke out at Lee Close in Honiton at about 08:00 BST on Friday.
Eight people were in the house at the time, seven members of the Bennellick family and Mr Gunn.
Devon and Cornwall Police said the full circumstances surrounding how the fire started had still to be established, but added that no-one was being sought in connection with it.
An inquest was due to be opened into the deaths on Thursday, the force said.