Exeter Chiefs' Thatcher silence 'wrong decision'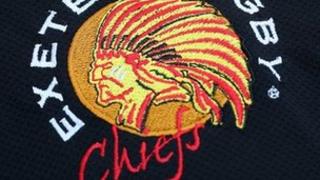 Exeter Chiefs' decision to hold a one-minute silence in memory of Baroness Thatcher has been criticised by the city's Labour MP.
The rugby club will hold the silence before the Aviva Premiership game against London Irish on Saturday.
MP Ben Bradshaw said Lady Thatcher had been a "highly divisive figure" and it was the "wrong decision".
Exeter Chiefs chairman Tony Rowe said: "This is not about politics, it's about respect."
Saracens are the only other Aviva Premiership side holding a silence, the league has confirmed.
Mr Bradshaw said: "A minute's silence is generally held at times of national mourning for a monarch or to remember a national tragedy, when the nation comes together, united, to pay its respects.
"Lady Thatcher was a highly divisive figure, whatever you think of her, and the overwhelming majority of sports bodies have decided not to hold a silence and I think that's the right decision.
"It's certainly a matter for the Exeter Chiefs to decide for themselves, but looking at the evidence on their own website and on other fans' websites there's certainly not a lot of support for it and I think it's the wrong decision."
'Great statesperson'
On the Chiefs fans' online forum, one fan wrote: "The point about the opposition being London Irish is particularly pertinent. I could understand a lot of reasonable Irish people being insulted by this."
Another said: "Whatever you think about Thatcher I think everyone needs to recognize the things she did do for this country and show their respect by staying silent."
Mr Rowe said: "This is a mark of respect for a great statesperson. As many people have agreed with us having a minute's silence as have disagreed."
A London Irish spokesman said: "Exeter Chiefs have made the decision as the home team and we respect that decision."
Championship side Plymouth Albion are also holding a minute's silence before their match against Newcastle.