Cost of Devon 'doorstep crime' doubles in two years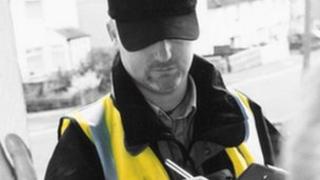 The cost of "doorstep crime" in Devon has doubled to £100,000 over two years, according to official figures.
They revealed that more than £100,000 was lost to cold callers in 2012, up from £50,000 in 2010.
The figures from the trading standards unit also show the average amount each victim lost grew from £890 in 2008 to nearly £1,200 last year.
Trading standards said most doorstep crime involved offers to do work such as laying a drive or roofing work.
'Bundled into van'
Official Nick Cotton said: "The criminals are very sophisticated; they bully and cajole.
"They target the elderly who are a little more trusting of people and not as cynical as others.
"We have had instances of gangs bundling elderly people into a van to go to the cash machine."
Other doorstep criminals dressed up as officials and distracted householders while accomplices entered the property by a back door and stole goods.
Devon County Council has joined forces with Plymouth City Council, Torbay Council and Cornwall Council's Trading Standard's Teams, as well as Devon and Cornwall Police, to combat doorstep crime.
People are being advised on how to deal with cold callers, and how to collect evidence, in free information packs from police stations and libraries.