BBC radio presenter Douglas Mounce dies of cancer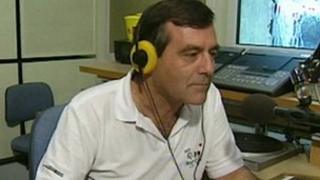 Former BBC Radio Devon presenter Douglas Mounce has died from cancer at the age of 65.
He was a familiar voice on the station for nearly 30 years and also had a successful career on stage as a pantomime dame.
Cornwall-born Mounce presented the Treasure Hunt programme on Sundays after Radio Devon was launched in 1983.
His first pantomime role was as the Chinese Policeman in Aladdin at the Queen's Hall in Barnstaple.
He played 27 pantomime seasons throughout his career, including appearing alongside his idol Roy Hudd in Plymouth, an experience he described as "incredible".
'Loved the stage'
It was Hudd who encouraged him to carry on developing his skills in comedy and the dame role in particular.
Having started off doing work as a television extra, Mounce developed a portfolio of minor roles in shows including Jam and Jerusalem, Lark Rise to Candleford and seven Rosamund Pilcher dramas for German television.
In 2006 he produced a Radio 4 documentary called Under the Skin about performers who appear as animals in pantomimes.
Mounce was also in demand as a presenter and compere, worked on cruise liners, as a warm-up for studio audiences and as the frontman for Music of the Night at the Royal Citadel in Plymouth.
He also appeared in a number of corporate videos and television commercials.
But theatre remained his abiding love.
"I've always loved the stage, always," he said,
"I would still collect autographs now if I wasn't too embarrassed to walk up to people. It was strange when people started asking me for mine."