'Handroid' hope for injured marine Dominic Lovett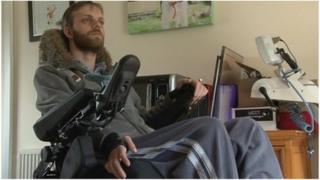 Researchers are hoping to develop a device they say could allow a paralysed former Royal Marine to use his arms and hands again.
Advanced Control Research (ACR) in Devon needs £70,000 to develop what it calls the "handroid" system for Dominic Lovett, 25.
He was injured nearly four years ago on a training exercise in Norway that left him paralysed from the neck down.
The skeleton-type system over his limbs operates by muscular signals.
Prof Roland Burns said: "ACR has done technology for prosthetic limbs, but this is an aid to an existing limb rather than replacing a limb.
"I have conducted tests on the young man and we think our technology may be able to help him out."
'Ready to go'
The so-called "exoskeleton" placed over Mr Lovett's limbs will be operated by electromyogram (EMG) sensors on his neck.
The sensors measure the electrical activity of the nerves and muscles.
"To contract a muscle is not a difficult thing to do," said Prof Burns, who was at Plymouth University for 32 years.
"The hand would close in proportion to the strength of the signal.
"We have a team of experts ready to go and once the money is in place we can start the development work."
The system is based on the one former show jumper Claire Lomas used to complete the London Marathon last year.
The Rewalk system she used was an exoskeleton for her legs that allowed her to complete the marathon in 17 days.
Mr Lovett, who was based in Stonehouse in Plymouth, became partially paralysed after jumping head first into a snowdrift while celebrating with marine colleagues.
But the snow was only 1m (3ft) deep and he broke his spinal cord.
Mr Lovett said: "It will be a miracle because it's going from your hand not moving at all to performing some limited function.
"It will change some aspects of my life, just not the whole thing."
He now lives in Horrabridge near Tavistock where neighbour Joseph Toland heard about his plight and approached ACR.
Fundraising has started with an auction of rare toy models.
Mr Toland said: "Here's a lad who has put himself on the line to earn a green beret in the marines. Now he needs our help."