Community takes over Shoalstone outdoor pool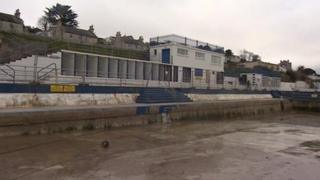 Members of a local community are taking over the running of an outdoor swimming pool in Brixham, Devon.
Torbay Council said it had agreed to the deal because budget savings meant it could not fund Shoalstone Pool.
A consortium made of community groups and divers have been granted preferred-bidder status, which means it can run the pool for a year with the intention of taking it over long-term.
The pool is due to reopen at the end of May for the summer season.
The seawater pool was built on the site of a natural rock pool that people have used for bathing since the late 19th Century.
It normally opens for four months over the summer, but Torbay Council could only fund six weeks in 2012 because of "budget pressures".
The new group said it hoped to have the art deco pool open 12 months a year.
Dave Hodgetts, from the Brixham Community Partnership, said: "Our ambition is to keep the pool open all year round, give or take the weather.
"If it is, instead of closing it in September, as it has been, we can keep on top of maintenance work."