Plymouth Half Marathon starts with silence for Boston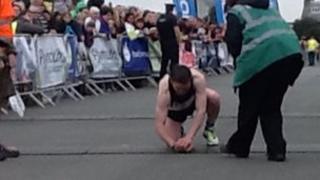 Runners in the Plymouth Half Marathon observed a 30-second silence to remember those killed and injured by the Boston Marathon bombings.
About 4,000 runners took part in the race, now in its 20th year.
It was won by Tadele Geremew, from London, who took an hour and nine minutes to complete the 13 mile (21K) course.
Three people died and more than 180 were injured in the Boston bomb attack, nearly two weeks ago.
The Plymouth race was started at 0900 BST by Beijing Olympics silver medallist Heather Fell, who comes from the city.
Local diving duo Tonia Couch and Sarah Barrow, and swimmer Antony James, who all competed at London 2012, were also there.
Jim Cole, from Tavistock, came second with a time of 01:10:26.
He stopped to touch the ground as he crossed the finish line.
More than 1,350 schoolchildren also took part in a mile-long (1.6K) race on the course.