Sailors race warship HMS Sutherland back to Plymouth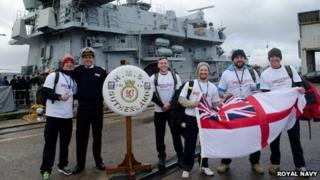 Five sailors from Devonport-based HMS Sutherland have set off on foot from Scotland to race their ship back to Plymouth.
Selected by ballot from the 180-strong crew of the type 23 frigate, the men are trying to raise money for the Royal Navy and Royal Marines Charity.
Their aim is to complete the 800-mile (1,287km) trip before the ship returns to Devonport on Friday morning.
The challenge is being made without money, credit cards or mobile phones.
Master At Arms Dean Latham, 38, Petty Officer Russell Simpson, 34, Leading Chef Brad Morton, 25, Engineering Technician Steve Weaver, 27 and 29-year-old Able Rate David Grey set out from the ship which is in Invergordon in the Cromarty Firth at midday on Monday.
With just a rucksack of clothes and basic supplies and a collecting can each, the Highland Escape Challenge team members will have to rely on their "wits, charm and leadership skills", a Royal Navy spokesman told BBC News.
"Without phones, we've no way of knowing where exactly they are just now - their aim is to get back to Plymouth any way they can," he added.