Homeless charity in Exeter awarded £378,000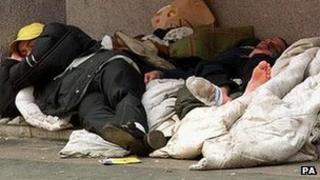 An Exeter-based charity helping the homeless, has been awarded £378,000 of Big Lottery funding.
St Petrock's has claimed that in the past year calls for help from the homeless have increased by nearly 30%.
It said the money will be spent getting people "off the streets", as well as projects to help ex-offenders.
St Petrock's project manager, Mel Hartley, said an increasing number of people are "struggling to keep a roof over their heads".
Ms Hartley said that with homeless figures rising, the funding would provide "some stability to the project for the future".
"It will also support our work with ex-offenders, helping to break the cycle of repeat homelessness and re-offending," she said.
Since opening in 1994, the charity has provided assistance to more than 10,000 people and helped more than 8,200 into supported accommodation.