Devon residents fear a 'student ghetto'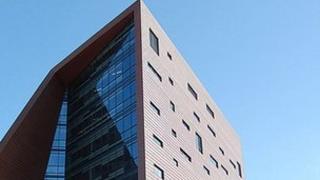 People living near a Devon university are worried the area is being turned into a "student ghetto".
Plans for an extra 900 bedrooms have been given the go ahead including a 10 storey building on the Plymouth University campus.
Residents say they have seen a rise in street rubbish and noise from existing student properties in the area.
The university said steps to "enhance community relations" are part of the expansion programme.
'24 hour' party
Plymouth City Council has approved plans for two towers - one 11-storeys and one 10-storeys high.
Further plans for a 104 bed development in Kirkby Terrace in the city, and 96 bedrooms at Pitt Memorial House have also been approved by the council.
Karen Edwards, one of the residents, said: "We hear shouting, screaming, music blaring. We had one party that went on for 24 hours.
"I think with the extra hundreds of rooms the anti-social behaviour will increase."
Scott Millway, another resident living near existing student accommodation, said: "There has been a visible rise in street rubbish, noise, anti social behaviour and traffic issues.
"It has swung too far against a balanced community, creating a student ghetto."
A university spokesperson said students contribute nearly £100m to the local economy.
A 24-hour a day contact number would be available for residents who have concerns.
Professor David Coslett, the Deputy Vice Chancellor at the university, said: "We're putting in public cafes and a gallery. I think we've done a good job.
"But I appreciate the concerns. We've listened to what they have said. We are able to manage student activities if they are closer. We will continue to talk to residents."