Torquay seawall repairs completed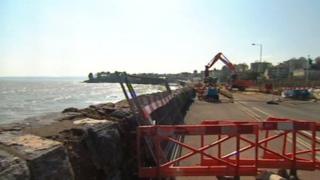 Repairs to a seawall in Torbay have been completed, allowing the full reopening of a major road in the resort, a council says.
Torbay Road in Torquay was closed in April after a breach in the seawall at Livermead in April caused part of the road to collapse, undermining a sewer.
Diversions were put in place until work to repair the damaged wall and save the sewer was completed.
Work was being carried out to reinstate the footpath, Torbay Council said.