Yachts ready for OSTAR race challenge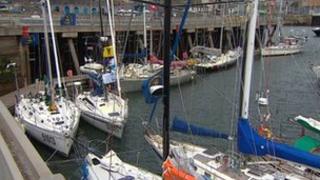 More than 20 yachts taking part in the Original Single-Handed Transatlantic Race (OSTAR) have left the starting line in Plymouth.
The race covers 2,700 miles (4345 km) with the finish point off Newport, Rhode Island.
It is the 14th time that the Royal Western Yacht Club in Plymouth has hosted the race.
Organisers said the first yachts will cross the finish line towards the end of June.
'Many challenges'
David Southwood, the race's director, said: "The 'Corinthian' spirit of the OSTAR, which began in 1960 as a race for keen amateurs, remains strong.
"It's an amazing event open to all, from the biggest to the smallest of yachts which makes it as exciting as many of the professional races."
The Royal Western Yacht Club hosted the first race back in 1960.
The event attracts a mix of amateur and professional sailors.
Mervyn Wheatley, a retired Royal Marine from Newton Ferrers in South Devon, said: "This race has many challenges, getting to Newport is the main one.
"Also the knowledge that, if anything goes wrong, it is up to you to sort it out. I am not a good cook so freeze dried food is my main meal."