Hatherleigh former quarry opens as a nature reserve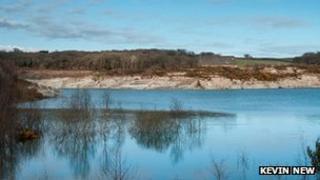 A nature reserve purchased by a Devon charity for more than £600,000 has opened to the public.
The quarry, at the end of the Tarka Trail in north Devon, was bought by the Devon Wildlife Trust in December.
The site was an operational clay quarry until 2004, producing 70,000 tonnes of clay at its peak in the 1970s.
The new wildlife haven includes 150 hectares of rolling landscape, and deep water lakes which will be managed by the trust.
Since its purchase, the trust has been clearing scrub, opening up ponds for dragonflies and wading birds, as well as installing trails, information panels and a bike park.
Jo Pullin, from the trust, said: "Because it's a new nature reserve we're still getting to know it.
"But in the five months we've been working here we're blown away by the diversity of wildlife. The bird song is amazing, while the butterflies and dragonflies are really impressive too."
There will also be information boards telling the story of the old quarry's industrial heritage.