Girl, 4, burnt by beach sand heated by barbecue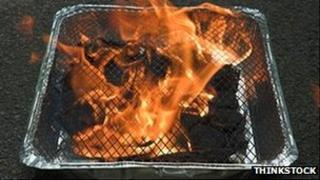 A four-year-old girl has suffered burns on a Devon beach after falling on sand where a disposable barbecue had been used.
The girl was with her family on Exmouth beach on Sunday when she walked across the heated sand and fell.
She was taken to the town's Minor Injuries Unit for treatment to burns on her left foot and hand.
Exmouth Beach Rescue Club said people were often unaware of how hot the containers get.
Nigel Snowshall, from the club, said: "People do not realise how hot the sand gets underneath these barbecues and how long it stays hot for. It gets very hot for several inches."
Barbecues should not be put in beach bins, but left next to them for disposal, the club added.
Alan Coxon, from Devon and Somerset Fire and Rescue, said: "If people do use disposable barbecues, they should let it cool down while keeping children and pets away.
"Then dig a hole and spread the sand around so it dispenses of the heat."