Devon's NHS 111 health line postponed until September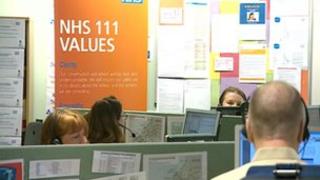 The launch of the NHS non-emergency 111 number in Devon has been postponed until September, health bosses say.
It was first set to be launched on 1 April and then on 18 June.
The helpline, which replaces NHS Direct, has been dogged by problems elsewhere in England with calls going unanswered and poor advice being given.
Service commissioners said they wanted to "learn from the issues in other parts of the country to get things right for patients in Devon".
'No deadline'
Last month, the head of the Devon family doctors' organisation, the Local Medical Committee, said it had "huge anxieties" about the phone line's launch.
In some areas of England where the service has been introduced - run by a variety of organisations, including private firms and ambulance crews - high demand has left thousands of callers unable to get through.
Critics also said inappropriate referrals by 111 staff had put huge strain on ambulances and hospitals in some areas.
Dr Tim Burke, chair of Northern, Eastern and Western Devon Clinical Commissioning Group, said health bosses wanted to "fully scrutinise our service so that when we launch we are assured it has been thoroughly tried and tested".
He said: "We are not working to a deadline. We are working to getting it right and taking the time to ensure it offers the best service to our population."
It is due to be operated by the South Western Ambulance NHS Foundation Trust.
The Devon Local Medical Committee said the postponement was "highly responsible".
It said: "There is very strong evidence that the premature launch of NHS 111 elsewhere has helped to fuel the recent perception of a surge in demand for A&E."
Neighbouring Cornwall has had difficulties starting its 111 service.
It was due to launch on 23 May, but there is currently no confirmed date for its introduction.
NHS 111 has been running in Dorset and Somerset since February, but high demand created some problems.
Over the Easter period, 32% of callers in Dorset and 12% in Somerset could not get through or abandoned their call.
The NHS in both counties said the situation had improved.