Council to save Ilfracombe Grade II listed wall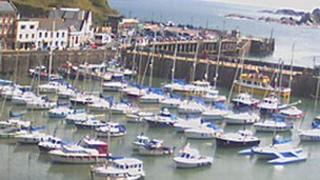 A Devon council has agreed a programme costing more than £1m to rebuild part of a historic harbour wall which is in danger of collapsing.
North Devon Council's executive has given the green light for urgent repairs to be carried out on Old Quay Head in Ilfracombe.
The Grade II listed wall dating back to about 1760 provides shelter to boats in the harbour.
The council has applied for grants to help recover some of the costs.
After years of exposure to the elements, the council said it was concerned that the wall was "so unstable that it could collapse".
Engineers have been monitoring its condition on a weekly basis, the council said.
A new concrete wall faced in natural stone will be built against the existing wall to act as a permanent support and protect it.
North Devon Council leader, Councillor Brian Greenslade, said: "In the last six months Old Quay Head has begun to deteriorate to the point where urgent and more permanent repairs must be made.
"Although this project will cost a lot of money, the wall is such an important structure in terms of fishing and tourism, not to mention protecting the harbour properties from flooding, this is something that has to be done."