Diligenta's Exeter jobs put in jeopardy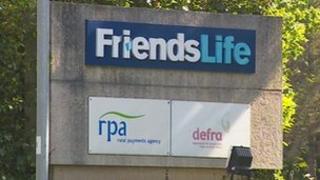 The future of hundreds of jobs at a business outsourcing company in east Devon is uncertain.
About 340 people work for Diligenta on behalf of pensions provider Friends Life, at Clyst St Mary.
Friends Life is reviewing whether to stay there, a report commissioned by the site landlord said.
Diligenta said its staff would remain at the site until the end of 2014. Friends Life said the jobs of 80 people who worked directly for it were safe.
The report, seen by the BBC, comes from land agents Jones Lang Lasalle, which works for the landlords of the Friends Life site, Winslade Park.
'Operations consolidation'
Dated January 2013, it said: "The review is likely to lead to the consolidation of sites across the UK and the phased reduction in staffing at Clyst St Mary; leading to a whole-scale vacation of the site by 2014/15 as operations are focussed on other UK locations."
Friends Life told the BBC: "Any decision relating to our office requirements will not impact on Friends Life jobs in the Exeter area.
"We have agreed with the Winslade Park Landlord that, at a minimum, we will continue to occupy the building until the end of 2014."
The pensions company, which used to be Friends Provident, announced in December it was reviewing its requirements for office space as it "sought to consolidate its operations at fewer sites around Britain".
Derek Phillips, from Exeter Chamber of Commerce, said the document raised concerns about an "important employer".