Murder victim Barry Pring's family 'optimistic'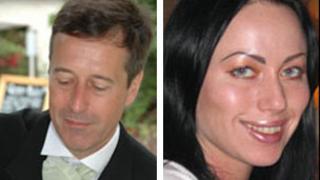 The brother of a murdered Devon businessman has said he hopes "justice would be done" following an intervention by the Prime Minister.
Barry Pring, 47, from Bradninch died five years ago in Ukraine when he was hit by a car with no lights on.
His death was initially treated as an accident, but it was reclassified as murder last year after pressure from his family.
Mr Cameron has called for the prosecution of those responsible.
'More optimistic'
Mr Pring's brother Shaughan met with Mr Cameron in a meeting organised by his local MP, Neil Parrish.
Mr Pring said: "As a result of him writing to the Ukrainian Prime Minister, our police have now received an official letter... asking them to assist with the investigations.
"We're now much more optimistic the Ukrainian police will carry out a thorough investigation. The wheels have started to turn now thanks to the intervention of Mr Cameron."
Mr Pring was in Ukraine to celebrate his first wedding anniversary with his 29-year-old wife, Ganna Zuizina, at a restaurant near Kiev.
He was hit by a car as he waited for a taxi on the hard shoulder of a dual carriageway.
Mr Pring's family say that moments before he was hit, his wife left him to retrieve a pair of gloves she had left in the restaurant.
Mr Pring's widow and her family have always denied any involvement in Mr Pring's death.
Shaughan Pring said: "It has been extremely frustrating and deeply upsetting. We can't have closure until we get justice for him."